My dispiriting, infuriating- and illuminating- period as a political telemarketer
The long read: What I learned about politics while phone-banking for the Democrats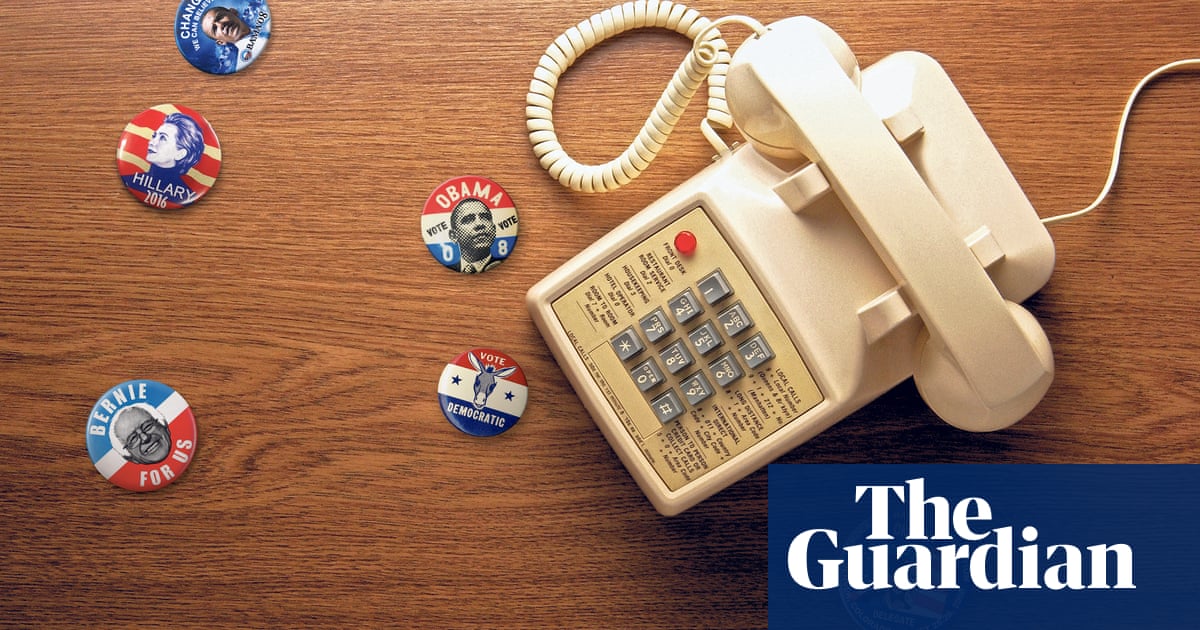 I got into political fundraising in the autumn of 2007 because I had become sick of call at the Tv, and I didn't want to be one of those people who failed to put their money where their mouth was, ideologically speaking. I started with plenty of door-to-door canvassing; the transition to working the phones meant I was at least glad to be indoors during my workday. And for a brief, glistening moment back when Barack Obama was still merely a candidate, mass telemarketing was not only a route of creating fund- it also doubled as the most compelling means of depicting an enlightened reformist spirit in the money-drenched agoras of public life. Caller and donor alike were united in the vision of a high quality of life. We were becoming the change we believed in.
Of course, we were kidding ourselves- especially those of us on the auto-dial objective of the conversation. Whatever else it may achieve, political telemarketing has little to do with political reform. The media will obsessively report how much plunder a particular candidate stashes in their campaign war chest, but whoever's in command of spending that lucre will face an electorate that most likely has already made up its mind about what it wants, what it doesn't want and what it thinks it deserves. Fundraising helps to win campaigns, sure, but it works best only when there are people around who still need to be persuaded.
Some basic misconceptions about the political fundraiser's plenty need to be cleared away. Even though I have done both, political telemarketing( AKA phone-banking) should be separated from telemarketing proper. For one thing, you are likely to construct more money doing regular telemarketing than political fundraising. Second, telemarketing is a job like any other, but political fundraising demands a certain idealistic self-sacrifice. Political fundraising is not the same as selling timeshares or vacuum cleaners, although the amount of grit and grime exacted by both vocations may indeed be comparable.
The way that hourly pay and bonuses were structured around the company I signed up with in 2012, which had several big bellow centres around the US, is probably typical. I was hired at $8.50( PS6. 50) an hour, which was then 50 pennies above the Massachusetts minimum wage. But your hourly rate would fluctuate based on how much you raised compared with your fellow worker. And it would fluctuate wildly alongside the broader fortunes of the campaign "youre ever" shilling for.
On a good night, if you were at the top of the heap, you might earn about $15 an hour. But if your contributions fell off( through no fault of your own) and others did better, you could drop back down to $10 an hour, or even back to minimum wages. Of course, the amount of money I raised in a typical day was vastly disproportional to what I took home. On an average day, I'd call roughly 30 to 40 people an hour, abrupt hang-ups included. I would expect to cajole maybe three or four into dedicating, at levels differing from $35 or less( we were told to refer to it as" our most grassroots pledge ") up to a few hundred bucks or more.
I might raise anywhere between $500 and $600 a transformation and bring home approximately 12% of that. Whenever a campaign aimed, we would be encouragingly told that one out of every eight dollars raised for a specific campaign came from us. I'm no maths whizz, but that is definitely a grander route of putting it than expressed the view that the entire company accounted for 12.5% of the money a campaigned raised.
---
There is a common misconception that political phone-banking is done solely by college kids building brew money in off-hours. That can be true, but by and large it is far more Dickensian than that. Burnouts and has-beens rub shoulders with screwups and also-rans. Freaks and geeks swap change for the candy machine. Ivy Leaguers debate the finer points of sports trivia with high-school dropouts. Retrieving addicts, aspiring rappers, writers, performers and hustlers of all kinds are coming in to talk, all day long. While the process of selecting the optimal names and numbers to target has grown more sophisticated, the script itself hasn't changed much. Once the change starts, everybody's in always-be-closing mode: talking smooths, talking back and talking trash to the donors, to the management and to each other.
Nearly everyone smokes- imagine the emotional needs of orally fixated working people who have just been screamed at for several hours- and the smoke transgress are a combination of reality TV-style grousing and plot, group therapy conference and recess. More than a few people around "youve had" done time- and some of them happen to be very competent and talented managers. You are with them all day long, pretty much every day and it is only natural that you become a part of each other's lives and tales. It's the kind of job where you don't know whether working there stimulates you crazy or whether you have to be crazy to work there in the first place. Make no mistake, the majority of callers are struggling to survive on little more than the kindness of strangers.
Read more: www.theguardian.com
About the Author
Hello World My name is Joseph Cettina. I live in New Jersey U.S.A With my Wife Jill and daughter Jaime.I Own and Operate Laguna Service Inc, http://www.lagunaservice.com .Factory Authorized Printer Service Center for Okidata.I specialize in Large Format Inkjet printer repair.I been working on the Internet for many years and have Created 30 + Niche Blogs im very interested in the Health and Wellness subjects here are a couple http://mattersnews.com http://joecettina.com http://www.qwikknowledge.com . I'm a Master Home Brewer. I have a small brewery attached to my house where I can brew 22 gal of beer at a time. I like to make Big Beers,Imperials, and IPA styles. It"s a great hobby and the finished product is the best!